Back to Products
S430 Pitot Tube Flow/Consumption Sensor
The S430 is a sensor that uses the pitot tube principle of flow measurement. This sensor is designed to measure wet and dirty gases, as found in locations like the compressor discharge.
Reliable: ideal for compressor performance tests

Simple: effective, inexpensive, and fast measurements

Accurate: detailed metrics designed unpredictable outputs
Description
Description
The S430 utilizes the pitot tube principle to measure wet and dirty gases that are found in places like the compressor discharge. This sensor boasts long-term reliability, wide turndown ratio, and highly-consistent temperature stability. It can be used in both compressed air and non-corrosive gases, and it can even be installed through a ball valve while the system is still pressurized. Various output signals allow the sensor to be connected to SUTO displays and/or third-party displays and PLCs.
Benefits
Faster Testing
Measure compressor outputs with ease
Easy to Use
Don't worry about specialized equipment for smaller jobs
Better System Health
Safer for your workers and much easier to manage
Features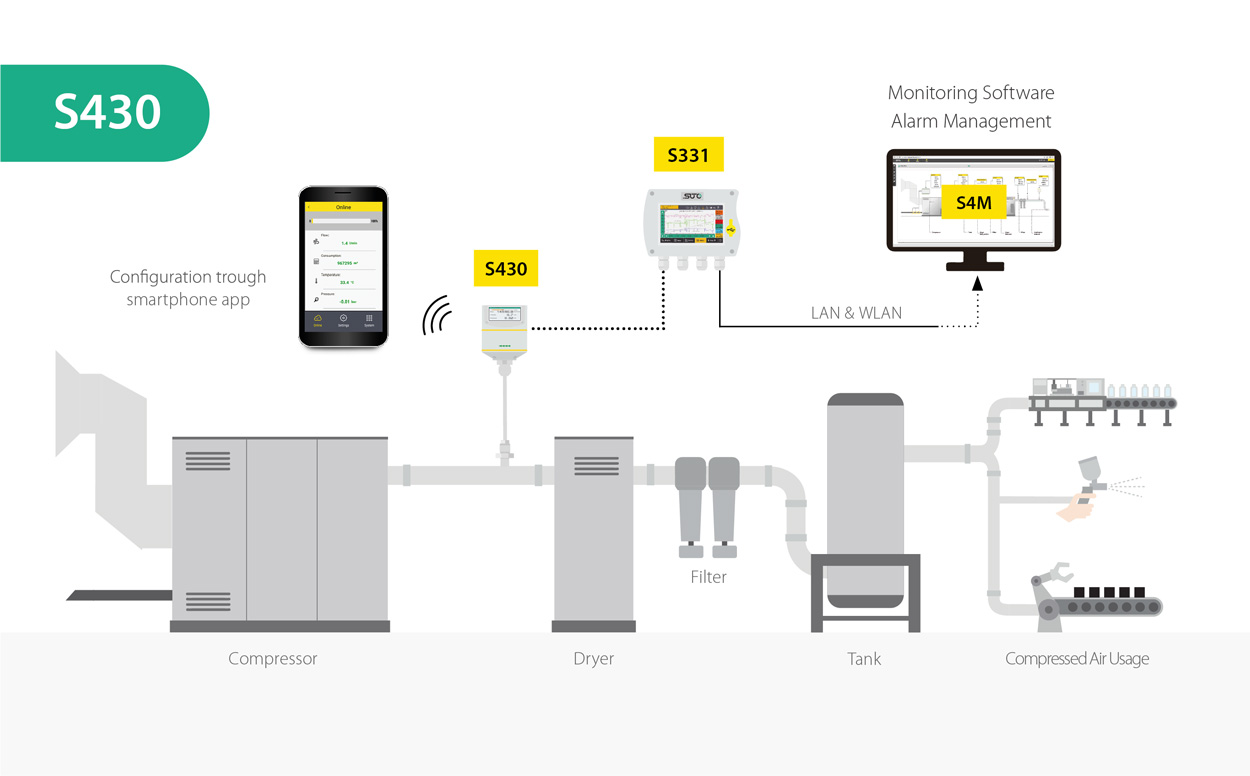 Features
Flow and consumption measurement in wet air or high mass flow / velocity applications 

Measurement at compressor outlet

Tube diameters of 1.25'' to 10" through center installation, bigger diameters through non-center installation 

Insertion type, easy installation under pressure through ball valve possible

High temperature applications up to 230°C 

No mechanical wear parts

All parts which are in contact with flow medium are made of stainless steel 

Compressor-FAD-Measurement

Measures Flow, Consumption, Temperature and Pressure
Specs
Specs
Flow range:  Refer to table below
Pressure range:  0 … 1.6 MPa
Temperature range:   -40 … +230°C
Accuracy:

Flow:  ±(1.5%+0.3% full scale)
Pressure:  0.5% F.S.
Temperature:  0.5°C

Reference conditions: Programmable, default P = 1000 hPa(a), T = 20°C
Medium:  Wet and dry air, non-corrosive gasses
Output signals:

4 … 20 mA and Pulse (optional)
Modbus/RTU (optional)
M-Bus (optional)
Modbus/TCP (optional)

Medium temp.:  -40 … +230°C
Ambient temp.:  -20 … +60°C
Power supply:  24 VDC, 150 mA
Display option:  2.4" color graphic display with keypad
Process connection:  3/4" G type (ISO 228-1)
Sensor material:  Stainless steel 1.4404 (SUS 316L)
Documents
S430 - Catalog
S430 - Manual