Back to Products
S600 Portable Compressed Air Purity Analyzer
The S600 is the portable multi-tool for compressed air purity measurements. It measures, records, and validates quality parameters like particles, dew point, oil vapor contents, temperature and the pressure of compressed air systems.
Portable: weighs just 9.8kg and comes with carrying case
Advanced: combines latest sensors and software into a single unit
Versatile: measure particle count, dew point, and oil vapor levels, temperature, and pressure
Description
Description
The S600 Portable Compressed Air Purity Analyzer combines the latest sensor technology, software-guided measurements and a time-saving setup into a handy, touchscreen controlled multi-tool that can be carried in one hand. Offering metrics on dew point, oil vapor content, particle content, and more, the S600 provides everything you need and more to spot-check air quality.
Benefits
Fewer Errors
one set of measurements reduces margin of error
Complete Convenience
take every measurement at once without switching tools
Improve Overall System Health
Keep compressed air cleaner
Applications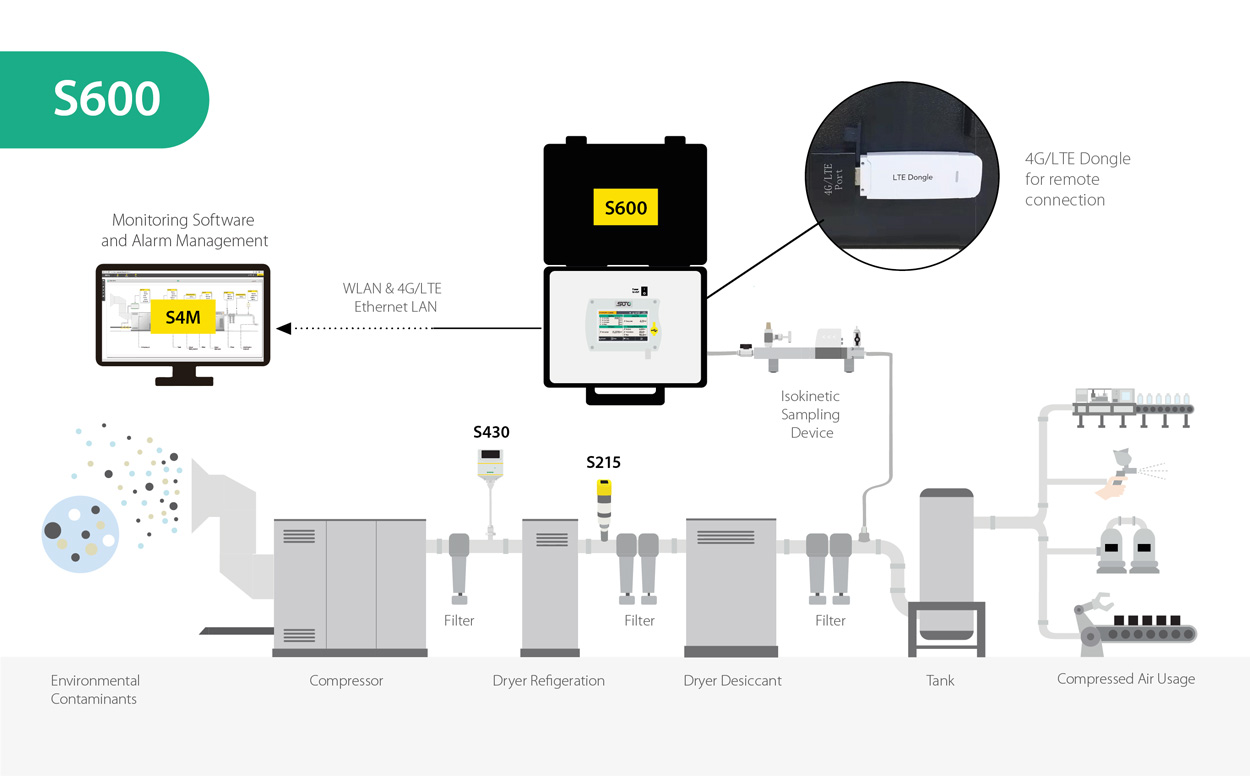 Applications
Particle Concentration Measurement

Measurement methods according to ISO 8573 standards (together with isokinetic sampling device)
Latest laser detection technology
Smallest particle size 50 % per JIS, bigger sizes 100 % per JIS

Dew Point Measurement

Large ranges thanks to the unique multiple sensor technology
Long-term stable and well-proven measurement methods
High precision with an accuracy of ±2 °C Td OIL VAPOR MEASUREMENT
Latest photoionisation detector (PID) with self-calibration
Wide range of oil vapor concentrations
High precision with 5 % of reading ± 0.003 mg/m³ accuracy

Pressure Measurement

State of the art sensor technology
Additional quality data about the compressed air system

Plug and Play Measurements at a Touch

Integrated data logger records all channels in parallel for later analysis
5'' touchscreen allows you to interact with the device on site. There is no need for a PC to manage the device.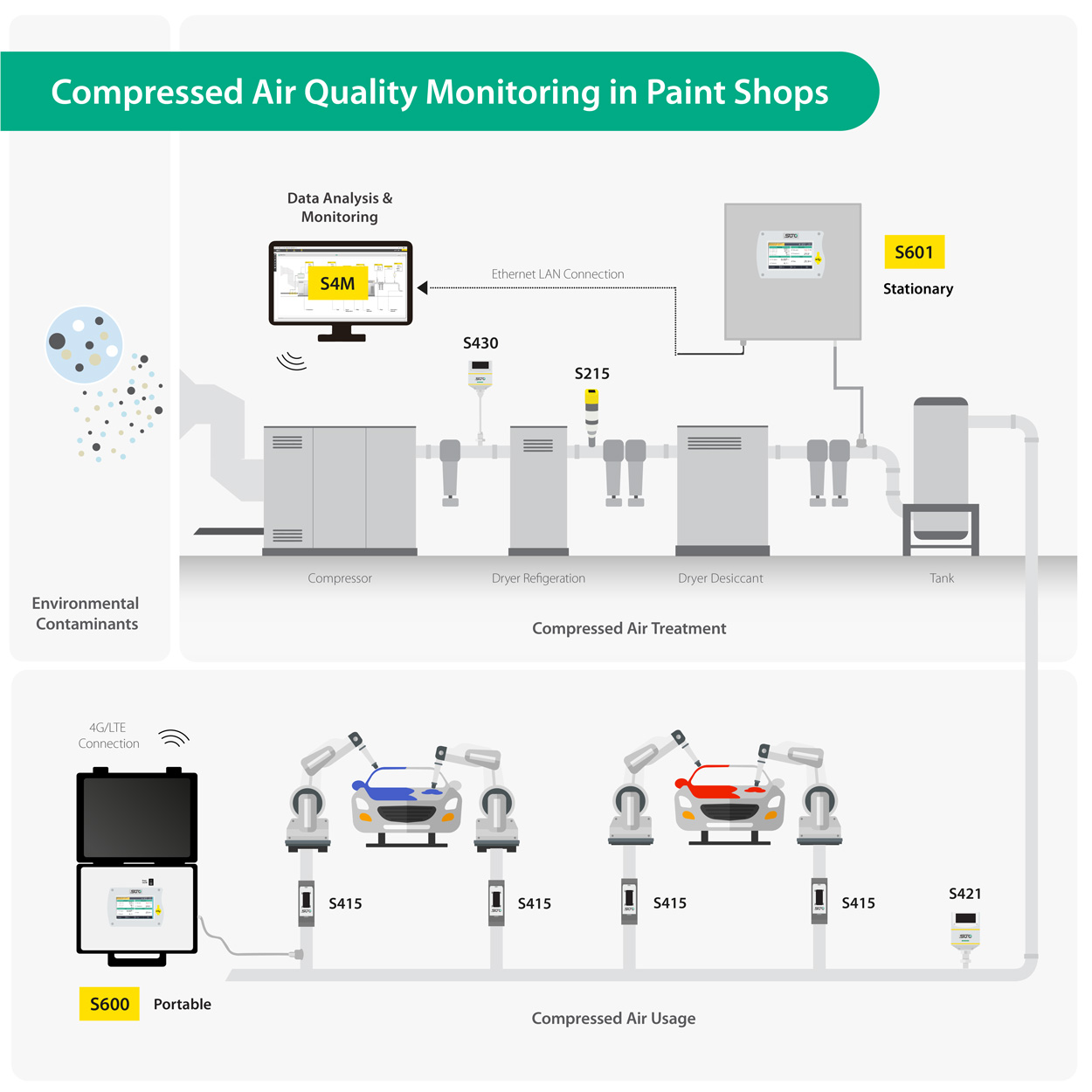 Specs
Specs
Measuring unit: 5" colour touchscreen with data logger, guided measurement and report generator function. All combined and integrated with the multiple sensor system.
Process connection: Connection tube 1.5 m with compressed air coupling
Operating pressure: 0.3 … 1.5 MPa
Ambient temperature: 0 … +50 °C
Storage & Transport temperature: -10 … + 70 °C
Medium: Compressed Air, Nitrogen N2, Carbon dioxide CO2 (software setting)
Medium temperature: 0 … + 40 °C
Medium humidity: < 40 % rH, no condensation
Reference settings: ISO1217 20 °C 1000 mbar
UV lamp lifetime (oil vapor sensor): 6000 working hours
Power supply: Mains supply adapter (AC/DC); Input: 100 … 240 VAC, 50/60 Hz, 1.4 A; Output: 24 VDC, 2.5 A, 60 W max.
Data logger: 100 mio. values, Integrated report generator for PDF export
Measured values: Temperature, Pressure, Oil vapor, Dew point, Particle concentration
Interface: USB, Modbus TCP
Display: Touchscreen, Size: 5", Resolution: 800 x 480 px
Dew point sensor: Dual-sensor technology (QCM & Polymer)
Particle sensor: Laser optical detection
Oil vapor sensor: PID (Photoionisation detector)
Measurement duration: min. 35 minutes (no upper limit)
Sampling rate: 1 sample / sec.
Classification: IP65 (cover lid closed)
Casing material: PC + ABS, Al alloy
Weight: 9.8 kg
EMC: IEC 61326-1
Measurement range: Particle counter 0.1 < d ≤ 0.5 μm ; 0.5 < d ≤ 1.0 μm ; 1.0 < d ≤ 5.0 μm
Measurement range Dew point sensor: -100 … +20 °C Td
Measurement range Oil vapor sensor: 0.003 … 10.000 mg/m3
Detection limit oil vapor sensor: 0.003 mg/m3
Resolution oil vapor sensor: 0.001 mg/m3
Accuracy Particle measurement: 50 % @ 0.1 < d ≤ 0.15 μm 100 % @ 0.15 μm > d per JIS
Accuracy Dew point measurement: ±2 °C Td
Accuracy Oil vapor measurement: 5 % of value ± 0.003 mg/m3
General Specifications Isokinetic sampling device
Measuring unit: Sampling pipe with integrated isokinetic sampling tube, flow regulation and control by integrated flow sensor, to be used for particle measurements according to ISO8573
Process connection: Connection tube 1.5m with compressed air coupling; 1 compressed air coupling inlet; 2 quick connections to S600; connection tubes to S600 included
Operating pressure: 0.3 … 1.5 MPa
Ambient temperature: 0 … +50 °C
Storage & Transport temperature: -10 … +70 °C
Flow sensor: Thermal mass flow, only for isokinetic flow setup, no system-flow measurement
Interface: Communication interface for S600, cable included, M8
Accuracy: 3 % o. RDG
Purge flow: Regulated by needle valve, setup guided by S600
Documents
S 600 - Catalog
S 600 Manual