Back to Products
S601 Compressed Air Purity Analyzer
The S601 combines dew point, particle, and oil vapor measurements into a single wall-mountable device. Optimized to be used as Plug & Play system, the S601 helps users to identify air quality at a glance.
Advanced: combines latest sensors and software into a single unit
Versatile: measure particle count, dew point, and oil vapor levels, temperature, and pressure
Reliable: once installed, takes consistent, easily-viewable measurements
Description
Description
The S601 Compressed Air Purity Analyzer combines the latest sensor technology, software-guided measurements and a time-saving setup into a sturdy, touchscreen controlled multi-tool. Offering consistent metrics on dew point, oil vapor content, particle content, and more, the S600 provides everything you need and more to constantly monitor every aspect of your compressed air quality.
Benefits
Save Time
Easy installation and startup
Fewer Errors
one set of measurements reduces margin of error
Complete Convenience
take every measurement at once without switching tools
Applications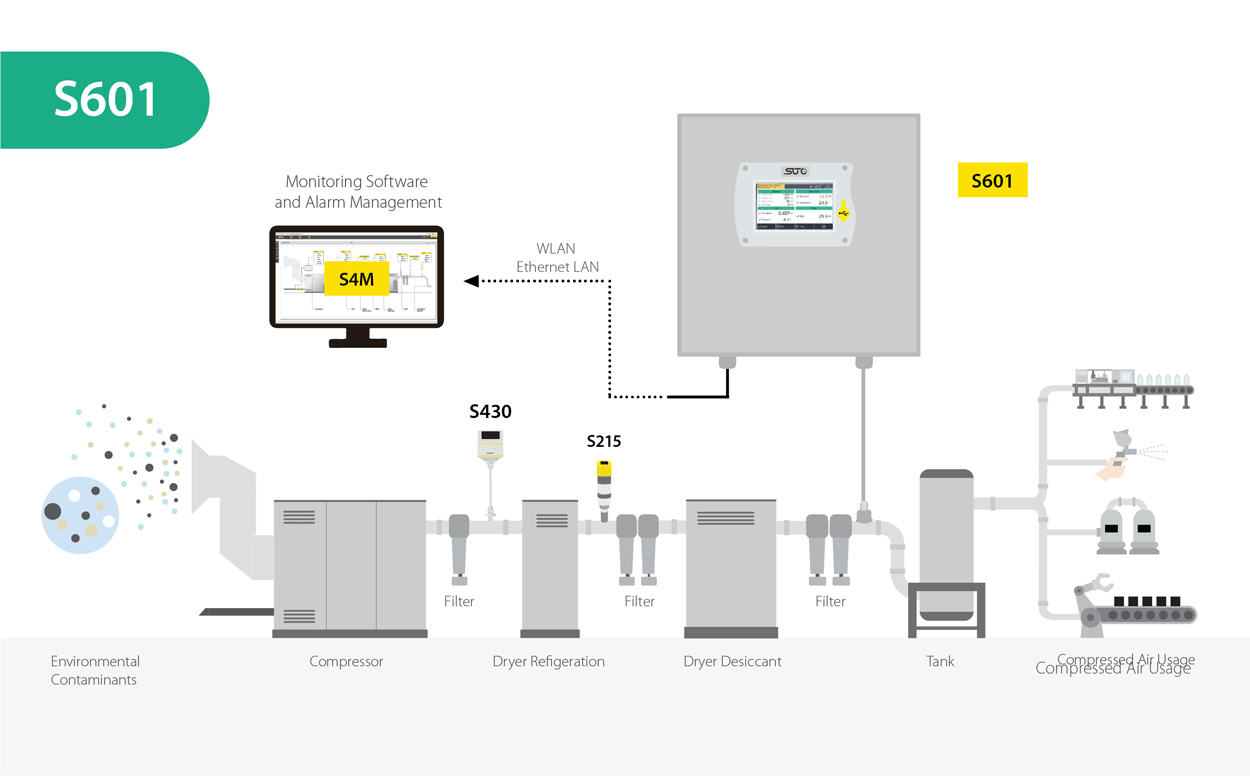 Applications
Particle Concentration Measurement

Measurement methods according to ISO 8573 standards

(together with isokinetic sampling device)

Latest laser detection technology

Smallest particle size 50 % per ISO 21501-4, bigger sizes 100 % per ISO 21501-4
Dew Point Measurement

Large ranges thanks to the unique multiple sensor technology

Long-term stable and well-proven measurement methods

High precision with an accuracy of ±2 °C Td

Oil Vapor Measurement

Latest photoionisation detector (PID) with self-calibration

Wide range of oil vapor concentrations

High precision with 5 % of reading ± 0.003 mg/m³ accuracy
Pressure Measurement

State of the art sensor technology

Additional quality data about the compressed air system
Plug & Play Measurements With A Touch 

Integrated data logger records all channels in parallel for later analysis

5'' touchscreen allows you to interact with the device on site.

There is no need for a PC to manage the device.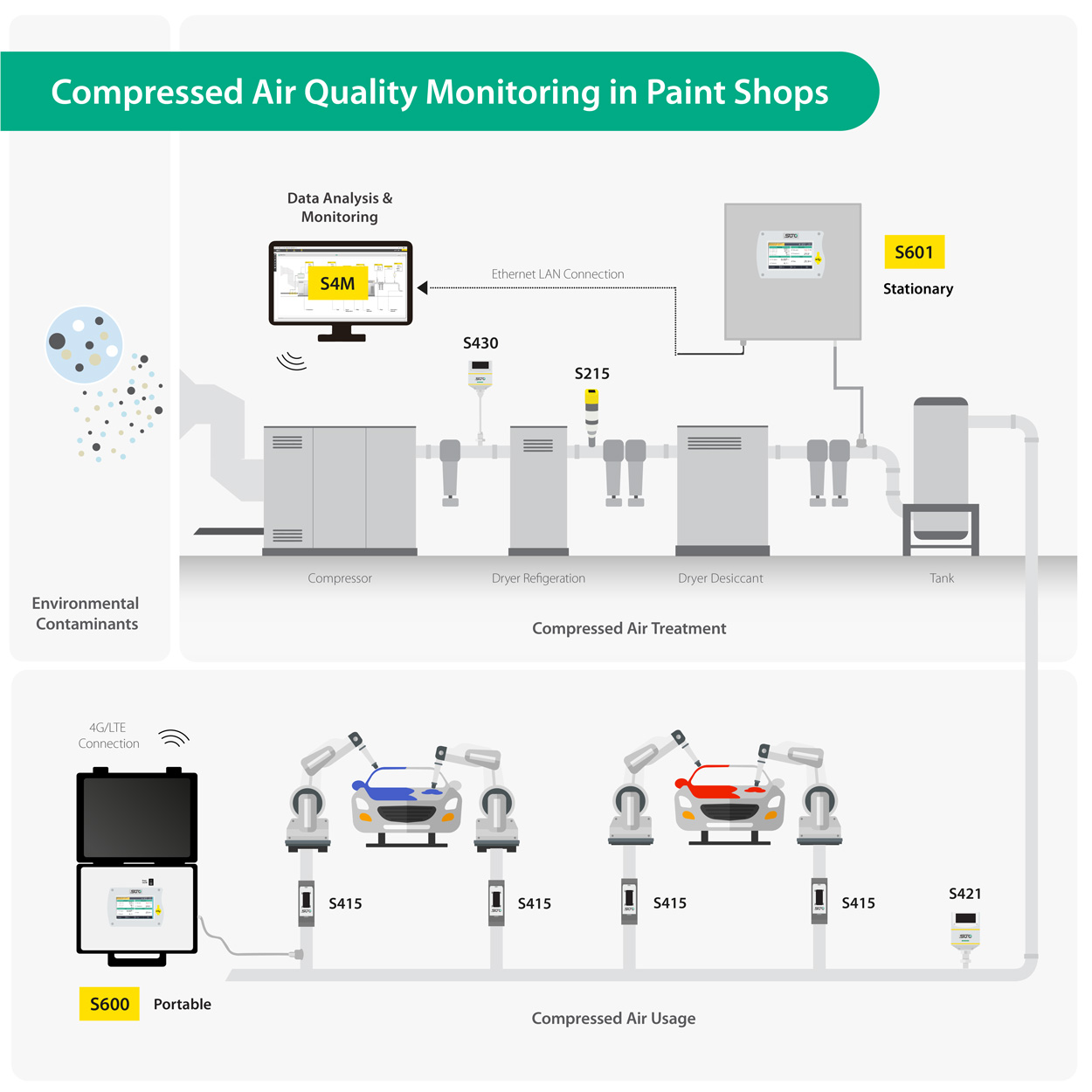 Specs
Specs
Pressure range: 0.3 … 1.5 MPa
Power supply: 100 … 240 VAC / 50 VA
Measured gas: Air
Medium humidity: < 40 % relative humidity
Ambient conditions: 0 … 50 °C
Transport Temp.: -10 … +70 °C
Data logger: 100 million samples, 1 sec … 1h sampling rate
Output signal: Ethernet (Modbus TCP), RS-485 (Modbus/RTU), USB
Casing: Sheet steel, powder-coated on the outside, Stainless steel on request
Classification: IP54
Electrical connection: 1 x M12, 5 poles (RS-485); 1 x RJ45 (Ethernet); 1 x mains cable with plug Process connection: 6 mm quick connect
Approvals: CE, RoHS
Documents
S601_GB_21-1
S601 Manual